Threads at kgraff.net -
Hats 2003 & 2004
Gray hats
This is a continuation of the Swedish Ski Hat saga. Construction consists of starting from the top of the inside and increasing to the head diameter, then knitting a tube straight and decreasing to form the top of the outside.
Not sure where the attraction to gray, neutrals and monochrome began. It might have started when lived with a gray tabby cat named Kitty.
Last year (Spring 2003) I decided to make my sister a hat. She often objects that wool is too scratchy, so I shopped around and ordered a cone of Superfine Geelong Lambswool Yarn from Mark & Mary Smith at Knit Knack Yarn. This is in the kitten's ear category of softness. The color designation is "Chafla" -- a marl produced by plying a strand of charcoal heather with one one light gray heather.
I knited a test swatch, then to block it, used hair shampoo for removing the spinning oil. The directions for washing the yarn were included with the order and, as promised, the yarn got even softer when washed.
Chafla geelong lambswool swatch

No. 1 needles
9 stitches per inch
11 rows per inch
I cast on sock needles then increased over six sections, changing to a circular needle, until I had 198 stitches around, or 33 stitches in each of the six sections. After the hat was long enough, I made paired decreases over four sections switching to sock needles, then closed the top. As the cone yarn was one strand, there were no ends to bind in. I just pulled the ending strand to the inside.
I washed the hat in shampoo, rinsed it, then spun out the rinse water and blocked it over a stainless steel mixing bowl.
---
Late in 2003 I started a second hat, this time using Brunswick Nylamb sock and fingering yarn (80% wool, 20% nylon) in grey heather. The label suggested using either 7 stitches and 9 rows per inch on a No. 3 needle or 9 stitches and 12 rows per inch on a No. 1 needle. I opted for the looser knit for the hat.
What makes this hat distinctive is that I began it with the first the first six rounds of Lucky Star, a classic bedspread motif, using a size D crochet hook. The pattern is from 150 Favorite Crochet Designs Mary Carolyn Waldreep, ed., Dover Publications, Inc., New York, 1995.
My work style is to have several knitting projects going at once as well as a thread crochet doily. As of May 20, 2004, the hat was 20 inches long. I joined the second skein of yarn at 10 inches from the beginning and the third at 19 inches from the beginning, so have plenty of yarn to make a generous cuff.
When the hat was long enough (I folded it in on itself and tried it on), I counted off stitches and marked the divide points between four sections. There was one stitch extra, so I did a round with a single decrease before starting the eight decrease rounds. To avoid a "corner" on the hat I started with three rounds between decrease rounds, then two, then continued decreasing every other round
When the rounds became tight on the circular needles, I switched to double point needles.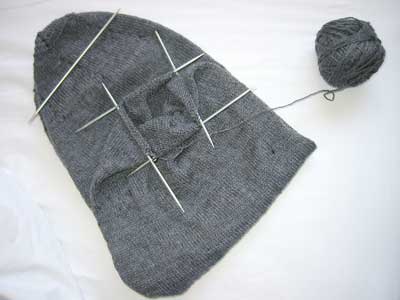 I then did a double check to make sure that I had darned in all the ends, then continued decreasing switching to every round near the end. When there were 16 stitches left, 4 on each needle, I started using up every other section divide. When there were 8 stitches left, I grafted the stitches together, broke the yarn, then pulled the end inside and washed the hat.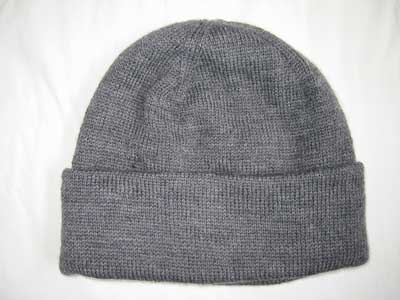 So here it is, in all its neutral glory.