Threads at kgraff.net
Crochet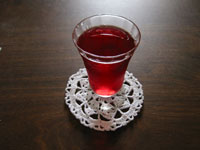 Making a fabric by crocheting involves drawing loops of thread or yarn through a slip knot then the resulting loops using a hook to form a chain. In fact, if you browse the crochet sites, you find that the word, like in music, originally meant hook. Crochet uses about a dozen distinctive stitches besides the chain. When reading patterns, be aware that European and Australian patterns use different names than American patterns.
In crochet, like in knitting, patterns can be worked in rows from a written pattern or chart or done in the round. I developed an affinity for making round doilies in the summer of 2003 after years of mostly knitting. The art of making lace in white, ecru, ivory, or cream Mercerized cotton or linen thread is sometimes called white work.
Steel crochet hook sizes (unless in mm.) and thread sizes get smaller as the size number gets larger. The larger crochet hooks have letter sizes and often are made in aluminum or other materials.
Crochet project links
I have been writing about more recent crochet projects in my blog where you may post comments or questions if you register (for free). In addition, I am using Ravelry.com (free registration required) to document projects. If you are serious about knitting or crochet, consider joining that community.
16 March 2009
Celt's Vintage Crochet site on Angelfire which has been an important source for old crochet patterns has closed. Christine, the owner, is in the process of moving the patterns to the celtsvintagecrochet Yahoo! group. I will try to update the links in the individual patterns listed below as the files become available.